Inspiring happiness in our communities, one confection at a time.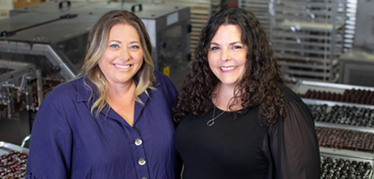 The legacy of Glacier has always been about inspiring happiness. From its founding in 2010, to its current owners—Tulsa natives, Katie Mabrey and Katie Hutto—the business has been a sweet haven in the Tulsa community.
Glacier was founded on the dream of bringing the world of gourmet chocolate confections to Tulsa, OK. What started as a passion for pure, high-quality, bean-to-bar chocolate eventually grew into a full-fledged dream-come-true when the first Glacier location opened in Tulsa.
Fast forward a few years… "The Katie's," as some call them, had been good friends for over a decade before deciding to go into business together. And as fate would have it, the opportunity to buy Glacier landed in their laps around the same time… it was too sweet to pass up.
"We were very fortunate to take over a business that had such a fantastic reputation," says Katie Mabrey. "Glacier had been built into something loved by the community, and we've had fun figuring out how to creatively push the business forward while still keeping the roots of its success intact."
"We've worked hard to preserve the best of the original Glacier," adds Katie Hutto. "From the recipes to the reputation, we really studied what aspects of Glacier made people happy and used that as our guiding principle for decision making."
As the Glacier team grows sweeter and continually refines our recipe for success, there are some ingredients that will never change: decadent flavor, artistry, quality, creativity, customer satisfaction, and community involvement. Rest assured, our mission will always be to inspire happiness and connection through the world of gourmet chocolate.
From everyone at Glacier, we invite you to experience chocolate with us as it was intended:
Beautifully, richly, and infused with the passion of true artisans.